Are you looking to create online forms or readymade templates to accept payments from your customers?
Then you must be familiar with Forms.app- a professional platform that helps you create forms for free. Although it is free, Forms.app provides specific features and a few free templates.
However, with this limitation, it may not be suitable for all industries especially the ones that look for only payment forms. Forms.app does not help you create an online payment form to accept recurring payments.
To help you find the best form builder, we have curated a list of Forms.app alternatives below. From designing beautiful forms quickly to using readymade templates, keep reading to learn about 7 alternatives of Forms.app.
1. Paperform – Create a Landing Page Look-alike Form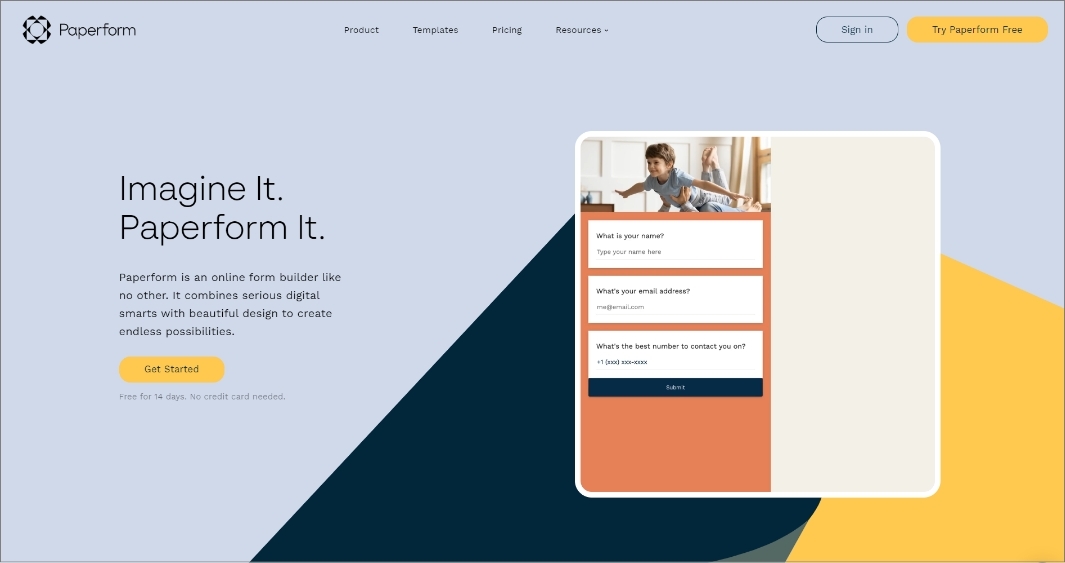 Pricing: 14 days of free unlimited access and the paid plan starts at $20/month.
Unique Feature: Easy-to-use form builder
Best for: Designers, Web Developers, Agencies
Paperform is one of the best tools to create forms that match your brand. The tool is easy to use with many responsive templates like invitation templates, bookings, customer feedback, etc.
Simply add text fields, and images and align your content. One of Paperform's best assets is offering multiple question types to fill the form. This way you can create multiple forms that suit your business needs. Pick an action after form submission like receiving an email notification, a success message, or redirecting users to a specific page.
Create smart forms with Paperform that interact with your visitors by using logic and calculation fields. Offer a wide range of integrations, marketing tools, and apps.
Paperform Features
Custom HTML for flexibility and CSS for appealing forms
Online payments, subscriptions, and donation collection forms
2000+ integrations with SSL encryption and reCAPTCHA support
2. Zoho Forms – Create Customizable Forms Without Code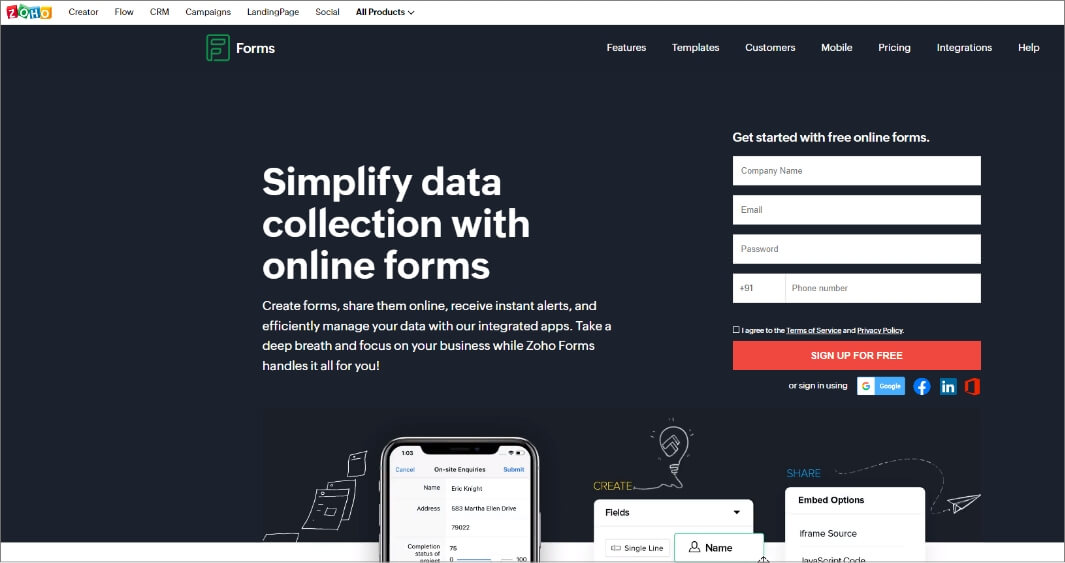 Pricing: Basic plan starts at $10 per month and $6 if billed annually
Unique Feature: Cloud-based online form and survey creation tool
Best for: Businesses that need CRM solutions
Do you want to analyze and prioritize your sales leads? Your site can tap into Zoho Forms and use a bunch of tools to integrate their CRM tool with your online forms. Automate a variety of sales processes and expedite business growth with Zoho CRM solutions.
Zoho Forms is another alternative to Forms.app to create and design forms that do not require coding. Reports are exported for detailed analysis. Get real-time notifications once the form is submitted.
Zoho Features
Embed forms to send your customers online
Team collaboration tools with built-in security measures
Ability to create Zoho Forms in WordPress and integrate CRM tool
Create online survey forms with a drag-drop feature
Create forms with readymade 250+ templates
3. FacilePay – All-in-one Tool to Accept Recurring Payments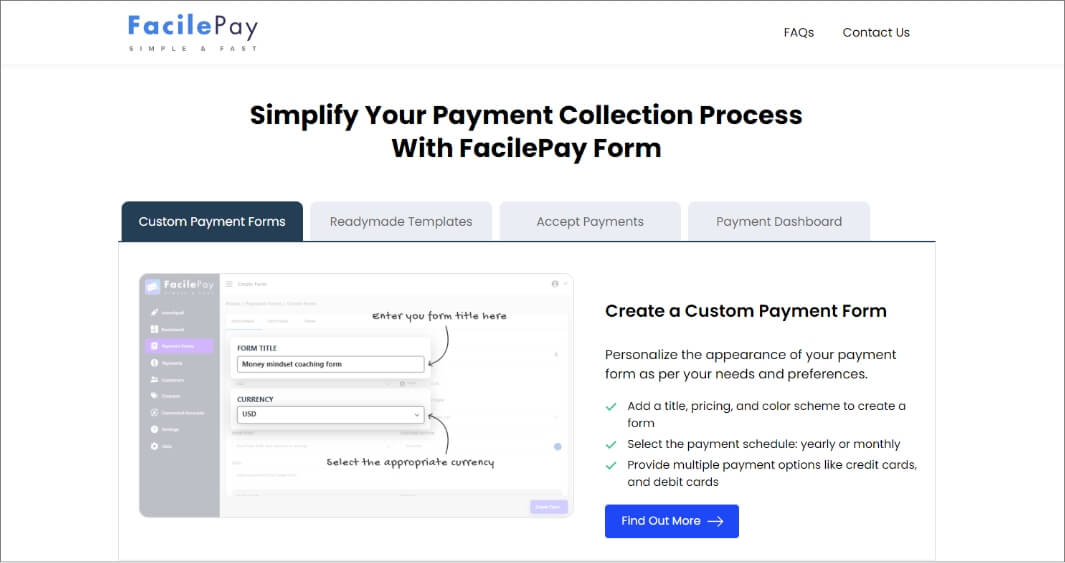 Pricing: 7-day free trial and starter plan starts at $15 per month
Unique Feature: Create customized recurring payment forms to accept payments online
Best for: Non-profit organizations, subscription-based companies
While all the other alternatives provide multiple forms to create, FacilePay is an all-in-one platform that provides readymade templates and forms to create. FacilePay allows you to accept payments in just a few clicks.
Integrated with Stripe and PayPal, FacilePay offers a secure and trustworthy payment gateway for users to send payments online from anywhere. Create customized recurring payment forms in a few seconds with an easy-to-use payment solution.
A web-based online form creator, you can use FacilePay if you are a small business and want a simple way to use a payment web solution to process recurring payments. If you want a budget-friendly solution to accept recurring payments or one-time payments for your customers. FacilePay forms can help you save time and scope to go through the complex setup processes for recurring payments. Keep complete track of all the transactions with the detailed reporting system of FacilePay.
FacilePay Features
Accept recurring billing and payments anytime and anywhere
Instant online payment solution for small businesses
Supports multi-currency
Shareable embedded payment links
Change background color, fields, and add your company logo to customize forms
4. Jotform – Ultimate Collection of Templates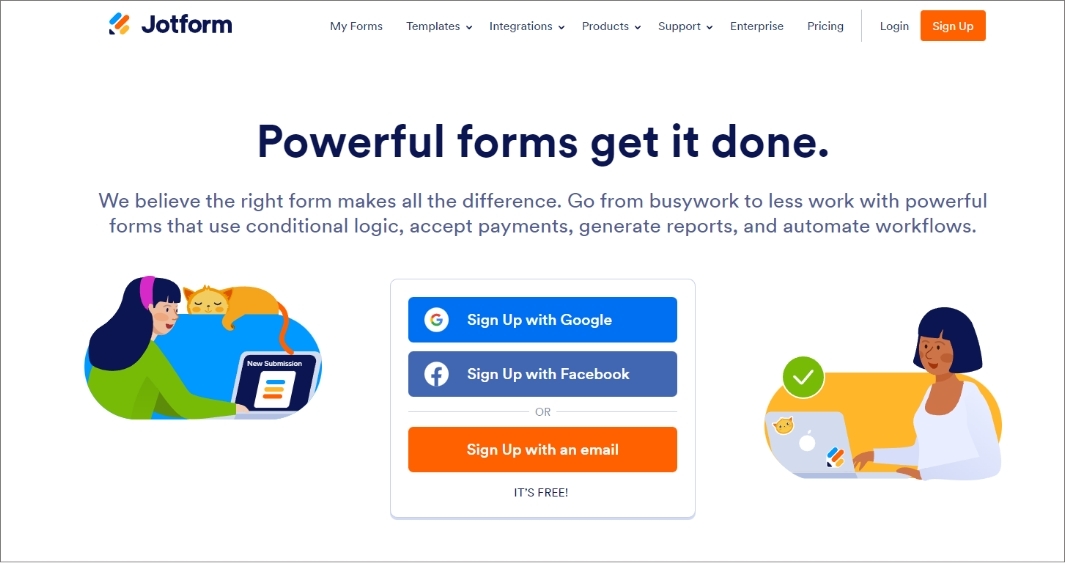 Pricing: Get a free starter to create 5 forms
Unique Feature: Large selection of forms to build
Best for: Education, SaaS, publishers, travel, healthcare
Without a single code, the Jotforms create and publish online forms. However, there is no integration with Google forms to integrate Google sheets. The company offers 10k readymade forms, 100+ integrations with third-party apps, and advanced features to serve online form builder better.
With Jotform, you can choose two layout options and all questions in the one-page form. Also, there's a single-question page. It lets you create multi-page forms to improve user experience and collect more data to set segmentation. These templates and layout options make Jotidela for A/B testing to choose which one suits better to your business.
Jotform Features
User-friendly and mobile-friendly forms
Immense template library
PDF forms
Digital signatures and collection of payments with the free plan
Multi-language support
HIPAA compliance for healthcare form creation
5. Formstack – Online Tools to Simplify Data Collection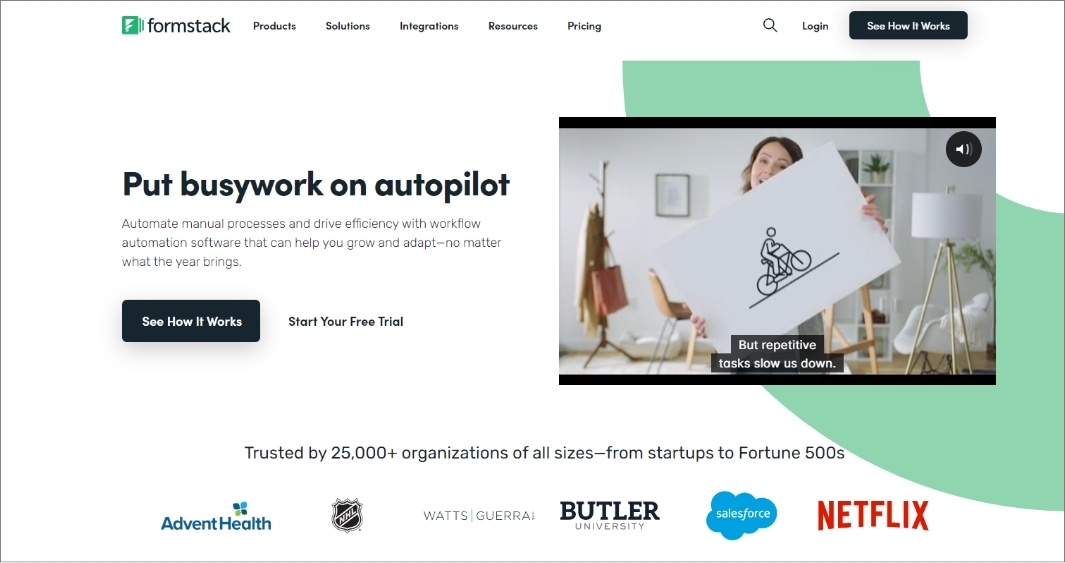 Pricing: Get a free 14-day trial and then subscribe to the starter package at $50 per month
Unique Feature: Eliminate data chaos with automated workflow
Best for: Government, legal, non-profits, insurance, software
Formstack helps you with an easy way to accept payments online. It offers a well-known collection of forms to get a hassle-free payment collection processed through online forms. Create customized forms or use in=built templates. Add fields, choose your payment gateway provider and collect your payment instantly.
Formstack has a number of security measures in place that will help you to keep your user's information secure. This option is best for businesses that are already using Formstack's other tools.
Formstack Features
Provides industry-specific payment form templates
100+ integrations
PCI and HIPPA compliant for healthcare and medical forms
Drag and drop form builder
forms
Ability to send forms and links via email
6. Hubspot Forms – Integrate CRM With Hubspot Online Form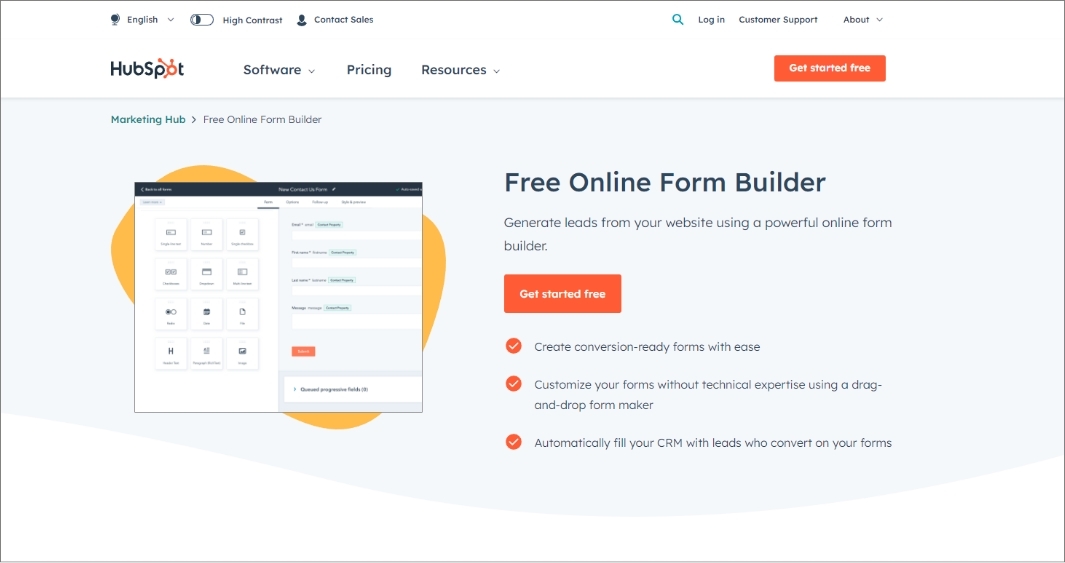 Pricing: Get paid marketing hub plan at $50 per month
Unique Feature: Integrated with all Hubspot services
Best for: Small and mid-sized companies
Hubspot comes with powerful tools to help businesses. A full-stack CRM platform that uses a drag-drop feature making it easy to collect information from the users. Create various unlimited web forms, contact forms, and standalone, embedded custom forms for free.
Get a selection of goal-based forms as per your business needs and create from scratch or modify custom fields. Once a user fills out the form, it redirects to the Hubspot CRM. The visual analytics tool will help you track how the forms are able to attain goals.
Hubspot Features
Additional email marketing and landing pages like form builder
12 different field types to edit and create custom forms
Integration with various digital tools to plugin and add forms to your website
7. WPForms – Progress Bar on Web Forms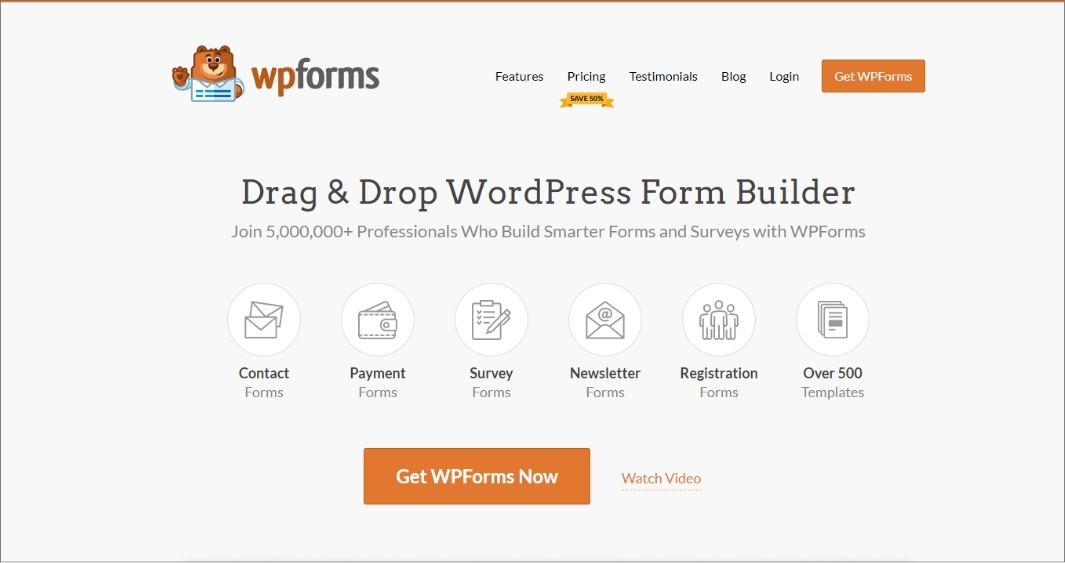 Pricing: Basic plan starts at $49.50 per year and the best deal is $199.50 per year with Pro features
Unique Feature: 100% no-risk money-back guarantee after 14 days of experience
Best for: Bloggers, designers, developers, photographers
If you want a WordPress plugin, that will bring more business with easy-to-create forms, then WPForms is the solution. If you are a beginner to the online builder, WPForms provides a cakewalk to you with online form builder templates for both big and small businesses.
Build various order forms, create surveys to collect information, and boost conversion rates with a variety of features like a progress bar with WPForms. They have a powerful form-creation tool to build effective forms.
WPForms Features
Hubspot addon for lead generation and email marketing
500+ form templates
File upload forms, survey forms, contact forms, payment forms, and Google sheet integrations
Form location tracking
Zapier integration for data collection
Frequently Asked Questions
Is there any cheaper alternative to Forms.app?

Some of the best alternatives that give you a lower plan rate than Forms.app is FacilePay. Compare the pricing structure or start with a 7-day free trial plan to try and create multiple forms.

Can I integrate another platform with my website?

Many form-building platforms offer to integrate options with various website builders such as Shopify and Salesforce.

Does another platform offer more customization options for payment forms apart from Forms.app?

Some alternatives to Forms.app may offer more customization options for your payment forms such as more design templates and adding custom fields. It's best to compare the features to find the best suits your business needs.
Increase Customers and Convert Leads With Suitable Form Builder
Are you now sure of which payment form provider to choose?
So many options and opportunities on one platform. It's amazing how tools help to achieve business goals.
While all the tools listed here are great, you need to choose the best depending on your business needs and objectives. Before mankind makes any decision, take the advantage of free trials that all the payments from builders offer.
So, why not try FacilePay online payment form to start with? Create the best forms for your customers and accept quick payments online.