📝Key Takeaways:

The best online payment forms are easy to use, visually appealing, and optimized for conversion.

They offer a variety of payment methods, including credit/debit cards, digital wallets, and ACH payments.

Online payment forms should be secure, PCI compliant, and integrated with your website and payment gateway.

Customization options, such as branding and field customization, can improve the user experience and increase trust.
Tired of sending multiple reminders to receive payments?
Do you want to streamline the process of collecting payments for donations, services, or products?
We have a solution for you!
Build an online payment form, or use customizable templates to collect payments online from your customers instantly. Whether it is recurring payments, or one-time payments, collecting payments is now easier.
Most small businesses have already created a payment form and the best payment gateway integrations to accept payments online.
Without any further delay, let us read the best payment forms that we have curated for you to build and process online orders seamlessly.
Here are the 11 best payment forms that allow you to create online forms to receive payments from your customers.
1. Wufoo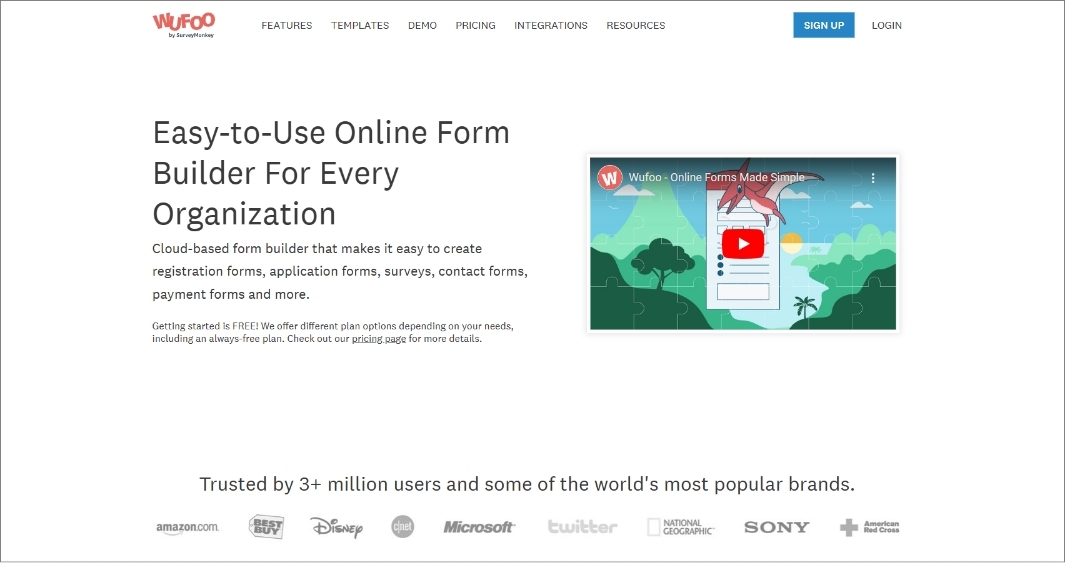 Wufoo is one of the most popular platforms to create an online payment form. Build a form from scratch or use the payment form template to speed up the payment process seamlessly.
Integrate your payment gateway and continue receiving payments from your consumers. Qufoo's payment form is encrypted with SSL encryption which is a standard security protection method. Wufoo pricing starts from $14.08/ month.
| Advantages of Wufoo | Limitations of Wufoo |
| --- | --- |
| A user-friendly payment platform for creating payment forms. | There is no free plan or trial to create a form and test an online payment form. |
| In-depth reporting tools keep your business updated with purchase and payment data. | There is very limited scope to customize payment forms as per your business needs. |
2. Cognito Forms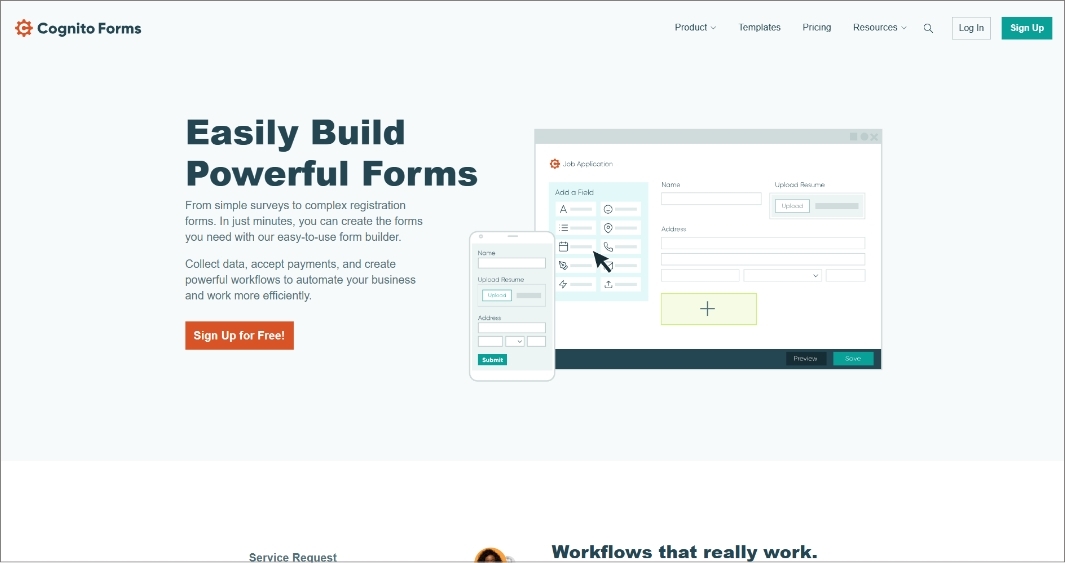 Cognito forms is the next recurring payment online form builder in our list. Customize forms and collect payments in just a few clicks. Modify the form according to your business needs, orders, or refund issues, and get detailed reports on all the transactions made.
Credit card payments are promoted with the help of third-party integrations like Stripe, PayPal, and Square. However, these third-party solutions can save credit card information for future use and have their own pricing structure as per the features you choose. Cognito Forms provides a 14-day free trial and then their PRO plan starts from $15/month.
| Advantages of Cognito | Limitations of Cognito |
| --- | --- |
| Easy to use and set up. | Unable to get appealing forms for clients. |
| There are a number of configuration settings. | – |
3. Formstack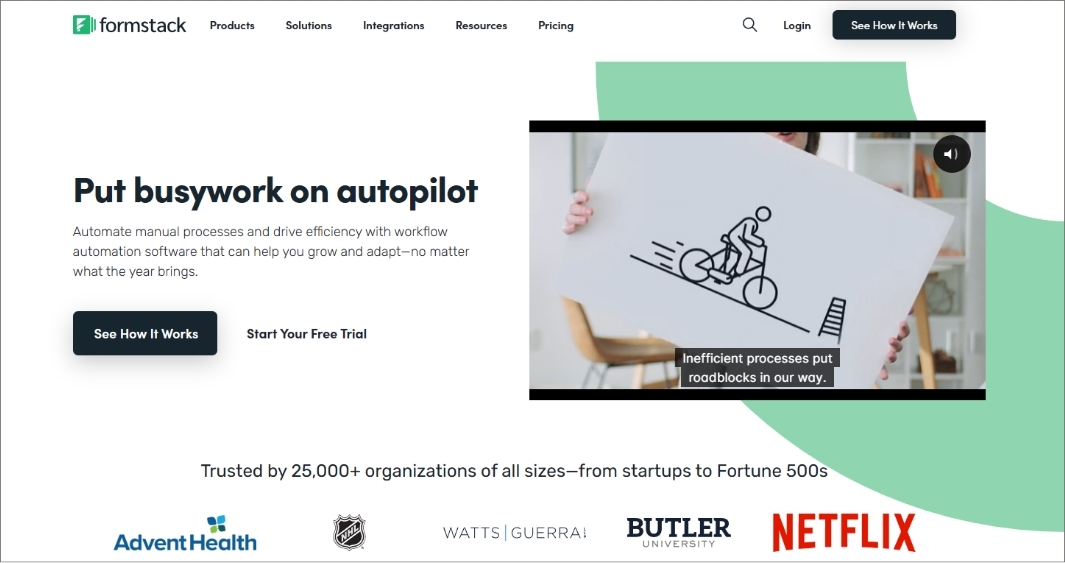 Easy to build forms to accept payments online is what Formstack provides. Sell products online and receive subscription payments or one-time payments quickly with Fromstack's easy, hassle-free collecting process.
Use Formstack's form editor to add/remove form fields as per your business needs. Discover new templates in-store to help you with quick online forms. Connect your forms with payment gateways like PayPal, Chargify, WePay, and Stripe for secured payments online. Formstack provides a starter plan from $50/month.
| Advantages of Formstack | Limitations of Formstack |
| --- | --- |
| With a rich feature set, Formstack also has a large number of built-in integrations. | No free plan available to make a form and collect payment. |
| Collect data with smart digital forms with conditional logic and no coding knowledge is required. | High pricing for the upper tier that the services and features you get. |
4. Typeform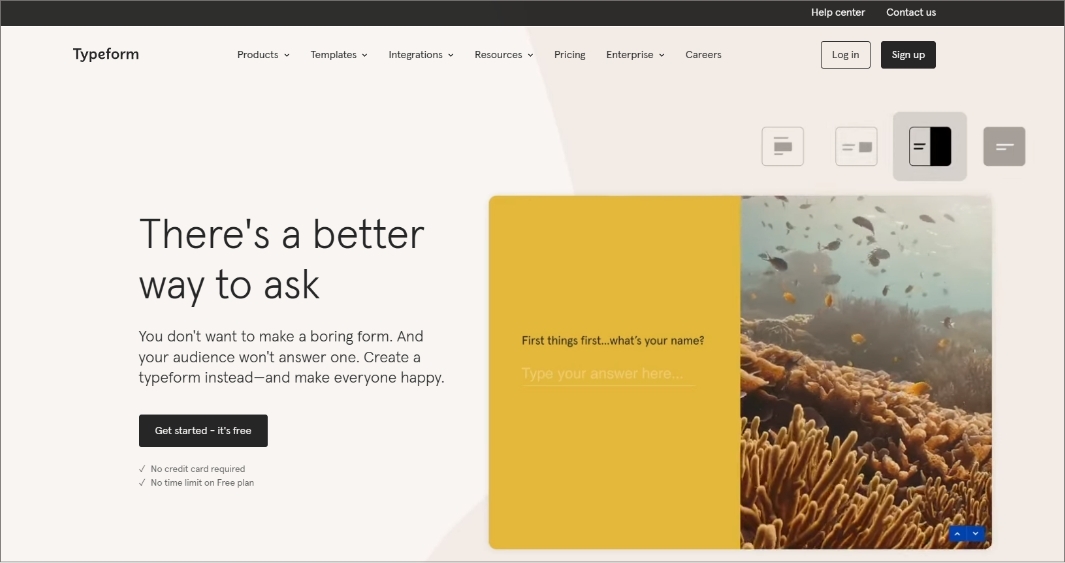 Do you want to make a boring form? Not really, as your customer will soon switch to another platform. Creating appealing forms, surveys, and quiz forms is what Typeform enjoys doing.
Custom layout and theme give an impressive look and feel to use. This will help create a good impression of your brand. Survey forms make you feel more like conversations than interrogations. Typeform provides a basic plan from $25/month.
| Advantages of Typeform | Limitations of Typeform |
| --- | --- |
| Appealing templates with intuitive UX. | The basic plan is not free and the rest of the plans are a little pricey. |
| Using the "logic jump" tool, you can integrate survey logic of your own. | You cannot collect 1000 responses per form. It limits the number of responses per plan and per month. |
5. PaperForm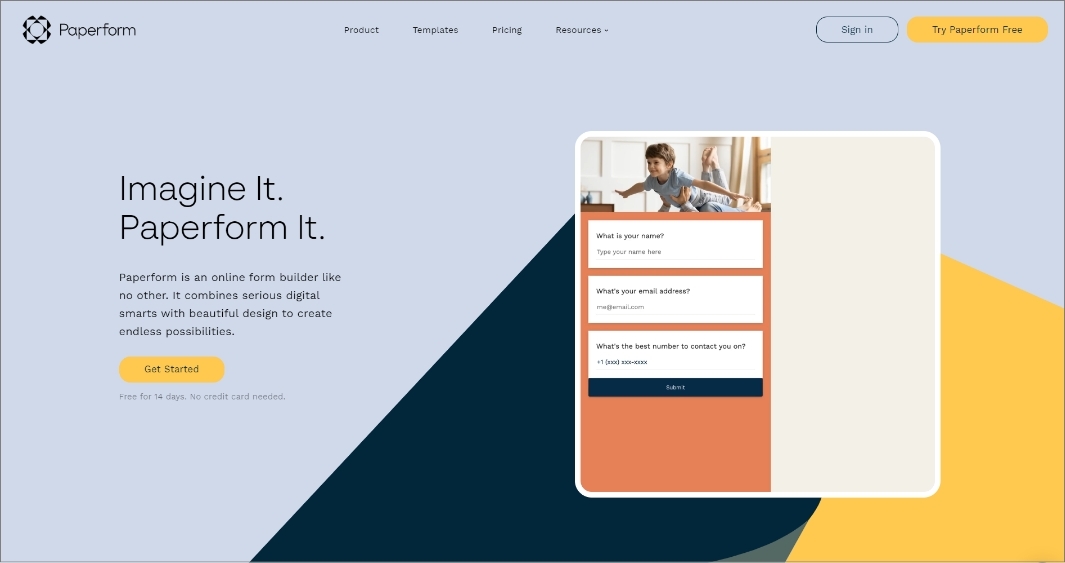 Create eye-catching forms for your small business and get them integrated into mobile devices to receive quick payments. PaperForm lets you collect a payment from any user by creating forms that elevate your brand.
When your form is ready, get integrated with payment gateways like Braintree and Square. PaperForm provides an essentials plan for $20/month.
| Advantages of PaperForm | Limitations of PaperForm |
| --- | --- |
| One of the best benefits of using PaperForm is its intuitive form creation. | PaperForm has a limited list of customizable templates. |
| Users have applauded PaperForm's customer support system. | Like Typeform, even PaperForm does not have any free plan. |
6. Pabbly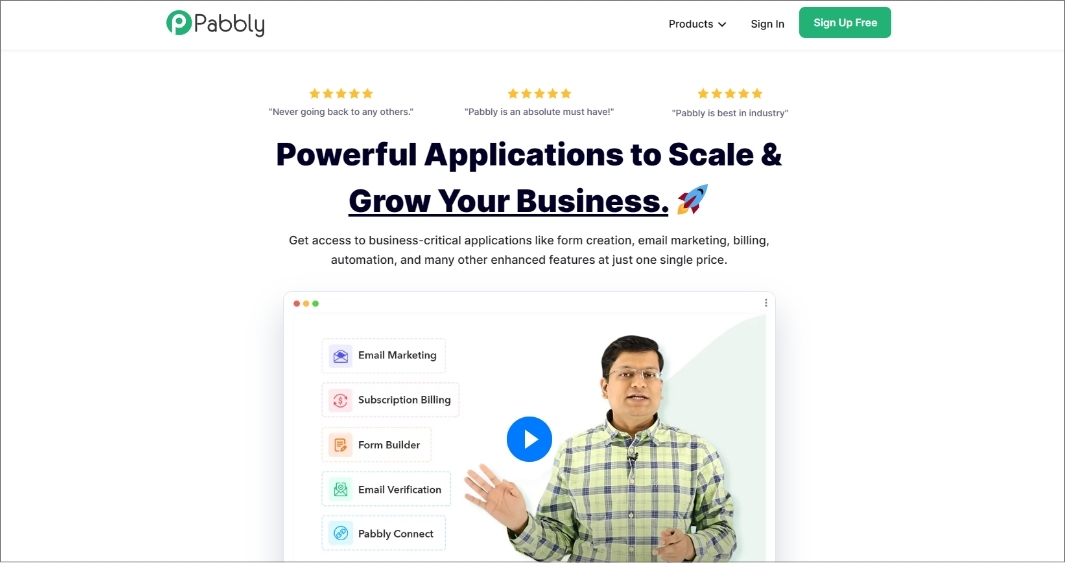 Pabbly is yet another customizable form for businesses. These forms can be tweaked and edited as per the fields required, background colors, integrations, etc.
Collect recurring payments, subscription payments, or one-time payments using Pabbly forms. Procure and manage the data of your users under one single platform. Pabbly provides a basic plan for $47/month.
| Advantages of Pabbly | Limitations of Pabbly |
| --- | --- |
| Easy to access all the features that Pabbly offers. | Pricing is linked to the number of forms you have. |
| Highly configurable and easy to integrate. | No free plan available to create forms. |
7. 123FormBuilder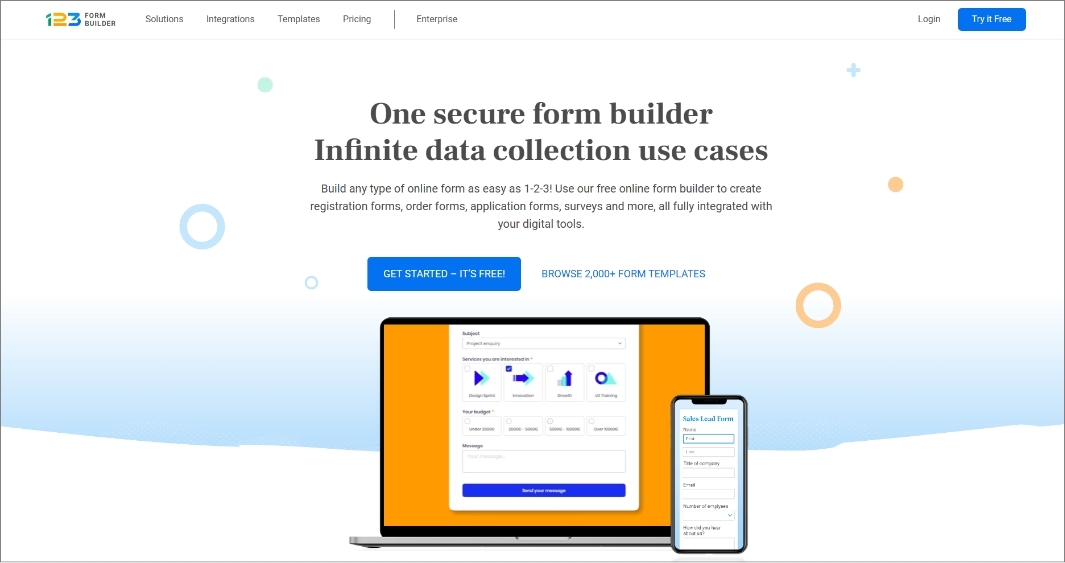 Creating multiple payment forms is as quick as counting 1-2-3! Building forms like registration forms, order forms, subscription forms, surveys, and more are integrated with your digital tools.
Free online form creation using no code, and simply drag and drop is what 123FormBuilder provides with complete PCI compliance. Integrate with Salesforce forms, get paid through PayPal order forms, and send data through Google Workspace integration. 123FormBuilder provides a free basic plan and a Gold plan from $19.99 per month.
| Advantages of 123FormBuilder | Limitations of 123FormBuilder |
| --- | --- |
| Dynamic and advanced customization forms. | No free trial and premium consulting for integration services. |
| Automatically generates invoices, and contracts, using templates and data collected through forms. | Multiple fields cannot be deleted at once. |
8. JotForm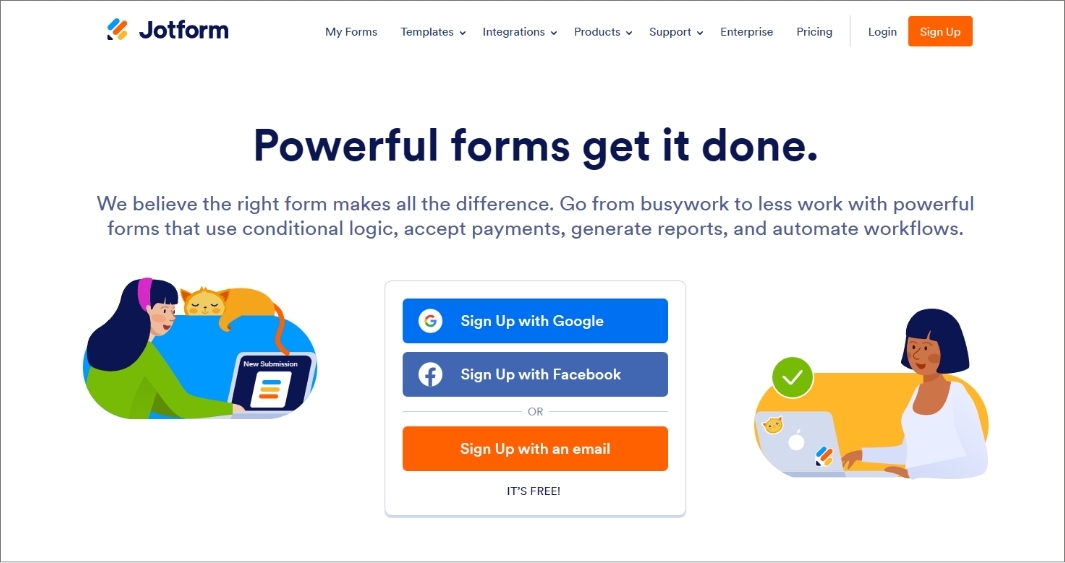 One of the most popular payment forms to build customized forms and receive recurring or one-time payments from customers.
Leverage a payment form template of Jotform and speed up the collection seamlessly. Drag and drop form builder and add fields in just a few clicks to make the perfect form and get paid instantly. JotForm provides a starter plan for free and the next plan- Bronze starts from $39/month.
| Advantages of JotForm | Limitations of JotForm |
| --- | --- |
| Jotform has a series of payment integration facilities for its users to perform easy payment processes. | Less intuitive user interface |
| They have a 30-day money-back guarantee if you cancel or unlike their services. | First paid plan is expensive and the free plan has very limited access. |
9. Apple Pay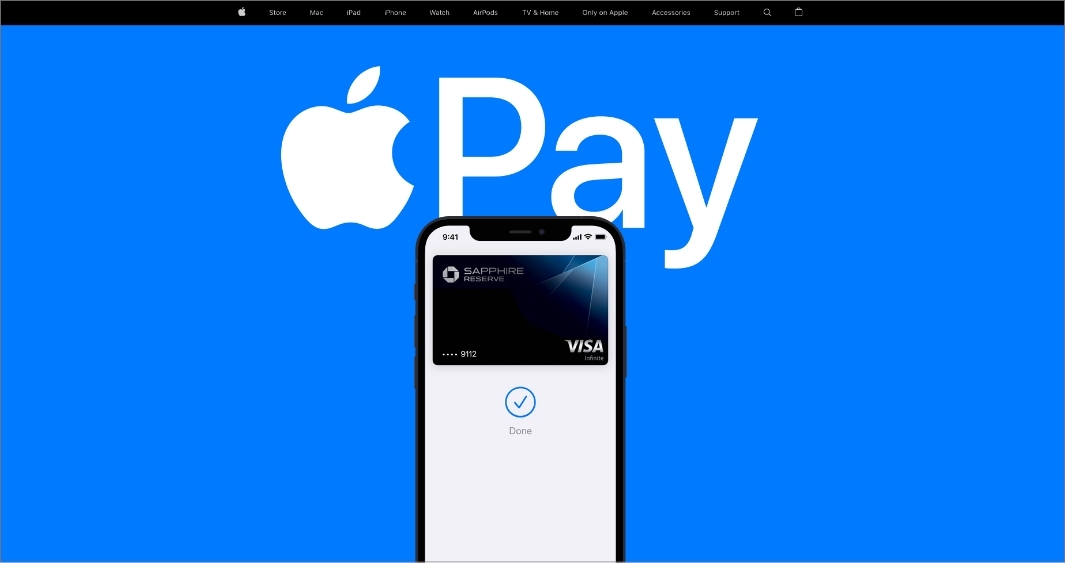 Apple Pay is popular in the USA. With the most seamless payment options in the market, users can instantly pay using Apple wallets. However, they are not a payment provider and you will need to set up if you want to accept online payments. There are no additional fees apart from the transaction fees which is around 1.5-5%.
| Advantages of Apple Pay | Limitations of Apple Pay |
| --- | --- |
| Easy and fast to complete transactions without the need for a physical card. | Not all merchants accept Apple Pay yet, so it is difficult to proceed with transactions. |
| Uses Touch ID or Face ID for authentication and encrypts card information, making it more secure than using a physical card. | Apple Pay is restricted to only Apple device users. |
10. Dwolla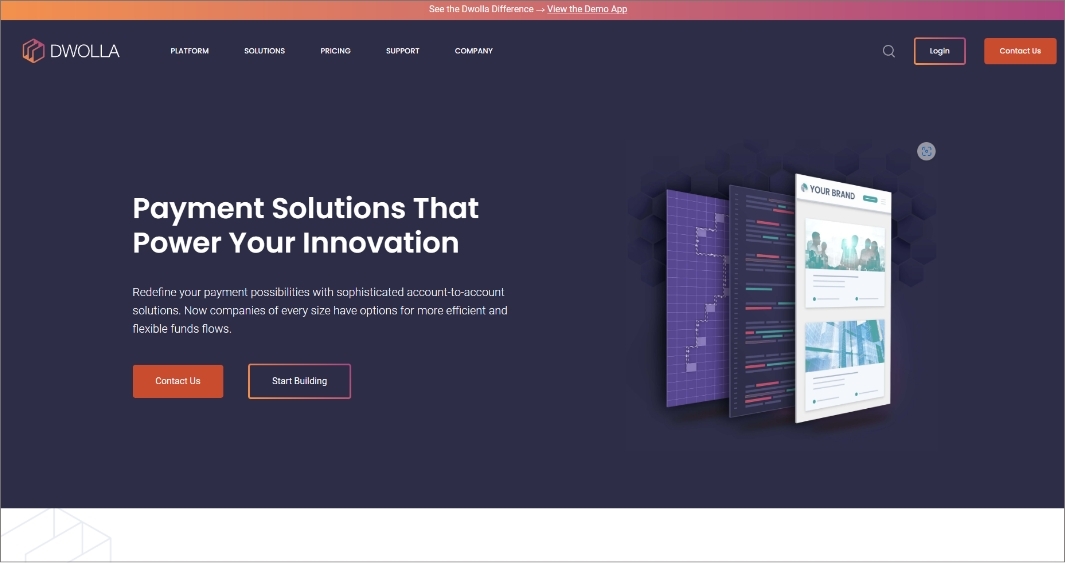 Dwolla has a wide variety of integrations. This type of payment form is flexible. If you require multiple payment structures, Dwolla will handle it all. To add more, its pricing structure is very competitive. The cost per transaction is $25 per month + 0.5% on every transaction.
| Advantages of Dwolla | Limitations of Dwolla |
| --- | --- |
| A flat fee structure for transactions, which can be more cost-effective than other payment networks. | Limited acceptance compared to other payment networks like Visa or MasterCard. |
| Provides a simple API that allows businesses to easily integrate into their existing systems. | International transactions may not be supported. |
11. Due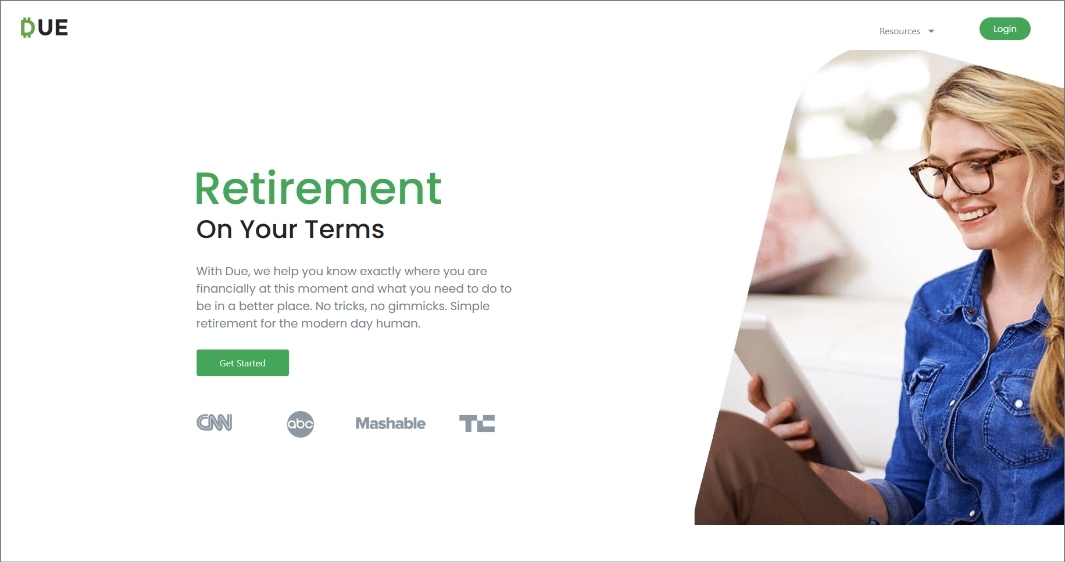 Due is a complete feature-packed payment processor that solves the needs of users with access to virtual wallets, secure transactions, and time-tracking software. The cost per transaction is 2.8% + 2.9% & $0.30 per Credit/Debit payment.
| Advantages of Due | Limitations of Due |
| --- | --- |
| Due offers a variety of features that can help businesses streamline their payment processes. | Due, currently only accepts credit card payments. |
| Easy to use, and needs no experience with payment processing. | High fees than other payment gateways with high transaction volume. |
Frequently Asked Questions
What types of payments can I accept through online payment forms?

You can accept credit cards, debit cards, and digital payments from wallets like PayPal, Stripe, Amazon Pay, Apple Pay, etc.

Can I customize my online payment form?

Yes, you can customize your payment form according to your business and brand. Also, you can add or remove fields if you are using templates to create forms.

Can I accept recurring payments through an online payment form?

Yes, you can accept recurring payments through these forms. Set up a subscription billing form with any payment processor to increase sales and revenue.
Choose the Best Payment Form Builder to Get Accurate Responses
There are plenty of forms available in the market that help you receive payments from your users. From the above list of online payment forms, you can create donation forms, and recurring billing forms by integrating a suitable payment gateway for easy and seamless payment collection.
Sell your products online and let your customers purchase them with a secure payment collection process. Use the free trial option of any of these form builders and check responses.