Does your business follow a subscription billing model?
Are you finding it difficult to manage customer data with different billing cycles?
Failed payments and recurring payments issues affect customer retention rates. So, it is important to streamline payment processing to avoid billing errors and improve customer relationship management.
However, you can automate recurring billing software. In fact, according to markets and markets, the subscription and billing management market tends to grow from 4.0 bn to 7.8 bn in the next five years with a 14% CAGR.
In this blog, we have mentioned the most common challenges in recurring billing that businesses face and the solutions to overcome them.
7 Common Challenges in Recurring Billing System
Do you often face issues with payment failure or managing multiple invoicing processes? There are chances that your business may face a loss in revenue and need software to streamline the process.
Subscription companies should look for a robust billing system that is able to prevent payment failures and provide a stellar billing experience to customers. However, you should be clear with the comparison between subscription billing and recurring billing.
Let us check the list of challenges that businesses face for not implementing online payment process.
Challenge 1. Managing Growing Customers and Their Needs
Are you finding it difficult to manage payments from multiple subscriptions and online transactions failure?
This is the biggest challenge any business faces. Managing new and existing customers becomes difficult as you scale. Every customer needs seamless subscriber information instantly with a flexible billing cycle.
Solution: At this point, running an in-house recurring billing solution will bring more complexity. On these grounds, it is viable to implement recurring billing software to streamline subscription management.
An effective billing system allows you to track customers from the day your customers sign-up and subscribe to your recurring payment model.
Challenge 2. Loss of Revenue Due to Payment Management Failure
Is your ROI disturbed due to cash flow interruptions, missing on sending payment reminders, missing payments,or delayed payments?
Well, there is nothing more frustrating than customers trying to send a payment and failing in the middle of the payment process.
Do you want to decrease the customer churn rate due to failed payments?
Ensuring smooth payment channels to retain customers will increase the revenue opportunities and prevent them from switching to other recurring subscription businesses. Retaining customers is always more beneficial than acquiring new customers.
Specific customers tend to switch elsewhere to get better services. One of the most common recurring billing challenges is to retain and keep customers happy. Effective communication and offering multiple payment gateways is a great way to stop involuntary churn and acquire new customers. It's worth ensuring a smooth billing cycle to retain them.
Solution: Choose a solution that automates subscription plans and payment tasks like sending subscription payment notices, and updating with new billing plans to improve customer retention. The best online billing process will retain customers and keep the payment flowing smoothly.
Challenge 3. Lack of Third-party Payment Gateway Support
Do you find billing-related issues due to third-party payment gateways?
Well, sometimes accepting payments via different payment methods may get in the way of a successful transaction or they may reject accepting multiple currencies. Your preferred recurring billing model should accept a diverse range of payment partners for easy payments globally.
Solution: Integrate the right third-party solution to receive successful recurring billing. This includes e-wallets, digital currencies, and debit/credit card payments. Successful API integration will streamline the process and make it easier for monthly recurring dues.
Challenge 4. Inefficient Global Support in Terms of Payments From Different Currencies
Do you want to restrict your business to cater only to local customers?
Imagine international customers visiting your website but facing billing challenges or are unable to understand the language. It would be a great customer loss and will affect the ongoing value of the business.
Solution: Provide customers with multi-language and multi-currency support to experience seamless payment methods and better customer communication to solve any issues with billing methods or subscription plans. This will help you stay connected with them in the future if there are any recurring billing issues.
Challenge 5. Easy Integration for the Security of Online Payments
How to accept recurring payments online with high security? This is a concern for both parties, businesses, and customers. Online transactions should be encrypted with strong security. When a customer subscribes to your product or service, they trust the billing system of your business.
There are chances of invoicing or payment mistakes, an expired credit card payment, failed billing due to insufficient funds, and many more. Many businesses fail to provide security in handling crucial information of the customers.
Solution: Integrate an easy and secure way to generate payment options for your customers. Various recurring billing software offers a secure way for payments. Create and generate a link to share with your customers for quick payments to save time. The users should follow the link and pay via different payment gateways like credit/debit cards, PayPal, AliPay, or WeChat.
Challenge 6. Automated Subscription Billing to Create Multiple Invoices
Is it difficult to manage thousands of subscriptions at the same time?
It must be a headache. With multiple tiers of pricing plans, there are chances of customers choosing different plans. The inefficiency of the management process will lead to havoc with data lying all over.
Solution: To solve this issue once and for all, business needs to implement automated invoicing. A recurring billing solution allows you to create multiple invoices in seconds and receive the payment instantly. Also, with this uninterrupted access, customers receive subscription billing reminders to pay and many other benefits.
Challenge 7. Manage Discounts and Promotions to Track Redemption and Performance
Do you have different discount schemes to attract new customers and retain the old ones?
Discounts are the most effective techniques to encourage customers to try your service/product. But, the challenge here is when the billing system cannot manage the discounts.
If you want your customers to avail the offers and discounts, you need to manage the operations carefully otherwise the customers might get frustrated.
Solution: Streamline the activities with recurring billing solutions. This solution will help you track the discounts redeemed and the company's performance with real-time numbers.
Challenge 8. Regulatory Compliance
One of the biggest problems with recurring billing systems is regulatory compliance. Businesses must abide by a number of rules, including laws governing data protection and payment processing.
Solution: Use billing software that offers flexible billing options and enables you to inform clients about your billing policy. This might help to guarantee that you abide by several rules.
Challenge 9. Customer Disputes
Consumer disputes in recurring billing systems can be difficult to manage. If a customer does not recognise a charge or believes they were erroneously billed, they may dispute it.
Solution: Utilize billing software that offers detailed billing records so that clients may better comprehend what they are being charged for. Create detailed billing procedures and inform clients up front. Utilize billing software that offers several customer service channels, such as phone, email, and live chat.
We have tried to provide a solution to all the challenges mentioned above. Overcoming the above challenges will help your business reach its predefined goals.
Let us list the benefits of implementing recurring billing software to streamline revenue operations.
4 Benefits of Implementing a Recurring Billing System
To implement a system into business operations, you need to know how it will benefit the business. Let us dive into the benefits.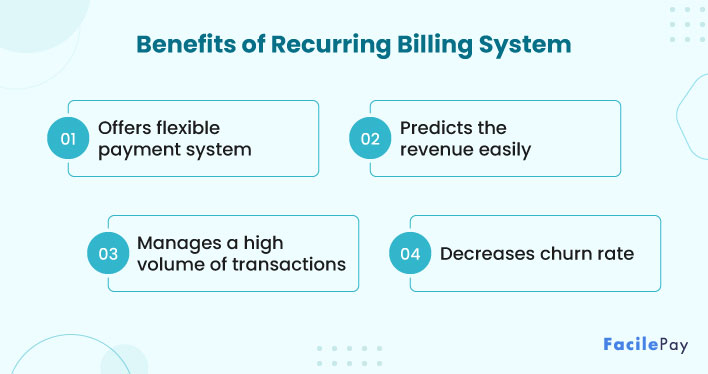 Offering Flexible Payment Options

Subscription billing is extremely successful for customers to purchase the product or services. The subscription model lowers the risk of losing potential customers. By giving them a convenient and flexible payment gateway, you are able to give access to your products to different customers globally.

Easy to Predict Revenue with Recurring Billing Software

Due to the recurring payment system, it becomes easy to predict the business revenue. When a customer subscribes to a product for a period of time, it's an assurance that on a specific date the payment will be issued. You can easily plan the growth of the business for the future with anticipated income. With this managing customers also becomes easy as they are aware of multiple payment gateways and the payment reminders you get automatically.

Manage a High Volume of Transactions

The recurring billing system will manage high-volume data and transactions. There is no need for the team to manually handle the customer data with billing payment details and dates.

Decrease Customer Churn and Increase Retention Rate

Millions are spent on marketing tactics and activities only to retain customers and attract new ones. Besides this, the quality and customer services need equal attention. Providing a list of new or upgraded products, and a quick payment option is an excellent way to cater to the user's needs and maintain the relationship.
Frequently Asked Questions
How do you handle recurring payments?

Recurring payments require the customer to sign at the initial stage for authorization of recurring billing. An all-in-one payment processor handles the payments integrated with software that secures customer information.

Which is the best recurring billing software?

Here are some of the best examples of the recurring billing software:

Chargebee
Wave
Zoho
FacilePay

However, when selecting the best recurring billing software you need to consider the below needs of your business.

What is the target audience?
Are you willing to set up your business globally?
What would be the payment methods?

Which are the features of recurring billing software?

The best recurring billing software will have the following features that ease your subscription system.

Automated Recurring Billing
Automated Invoicing
Product Listing
Seamless Payment Gateway
Store and Manage Items
Multi-Currency Support
No Monthly Cost
Secured Payment Link

Where do you need recurring billing software?

Businesses like streaming platforms, health and fitness studios, online groceries, online food ordering, and many more would adopt recurring billing software. These companies use billing software to create and send invoices to customers for monthly subscriptions. It helps to manage time and improve the accuracy of the payment process.
Choose Recurring Billing Software to Increase Business Revenue
The recurring billing system is nothing new. It is quickly becoming the mainstream of every business operation.
You might have faced some of the above challenges. Billing mistakes and payment failure happen and are unavoidable. With recurring systems, a business can overcome all the subscription billing issues. A recurring billing solution will help you improve business operations and productivity, as well as customer retention, and will give a way to high ROI.
Get in touch with us to know more about recurring billing software and how to implement it to upscale your business.